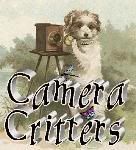 "Happy Huskie" is this week's "Camera Critters" post. If you want to participate, click on the image above.

---
It's hard to believe that it's been over a month since my last camera critter post! After a very busy month, I now have some time to blog again... and that makes me smile like this happy Huskie :)
To view thumbnails of all of my Camera Critter posts, visit the GritFX website.