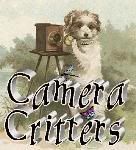 "Portrait of a Lady" is this week's "Camera Critters" post. If you want to participate, click on the image above.

---
We all have plans for the future and one of mine is to create a galley of portraits of all the cats I've loved and adored. With that in mind, I take any opportunity my cats present me with, waiting for the right moment to capture the perfect "portrait" - which, let's face it, can take a while with cats that constantly roll and yawn!
This week Ella decided she'd pose for me - giving me the opportunity to snap a handful of shots, the following two included. My dilemma now is to pick one of these two to be framed - something that's proving to be a hard task!
What are your thoughts? Can you decide which "Portrait of a Lady" you'd enlarge and frame as part of a gallery of kitty portraits?
To view thumbnails of all of my Camera Critter posts, visit the GritFX website.