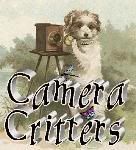 "Bird Life" is this week's "Camera Critters" post. If you want to participate, click on the image above.

---
Birds. What a life. Oh, to have that kind of freedom...
Here's some footage I shot of different Aussie birds flying, eating and doing their birdy thing in my garden and surrounds.
Next week: Bird Life Part 2To view thumbnails of all of my Camera Critter posts, visit the GritFX website.