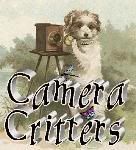 "Candy... How Sweet She Is!" is this week's "Camera Critters" post. If you want to participate, click on the image above.

---
Meet Candy, my parents cat. This weeks camera critters photo shows Candy in one of her "comfort zones" - the sink in the main bedroom ensuite where she feels secure in the presence of unwanted visitors - like my sisters dogs!! You'd think she'd find a more comfortable place to bed down - right?
And yes, I've manipulated the image... here is the original for curious visitors...