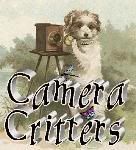 "Golden Oldies..." is this week's "Camera Critters" post. If you want to participate, click on the image above.

---
I've been so busy this week that I didn't even think about my camera, let alone pick it up and snap some photos.
Therefore, this weeks camera critter post is a selection of critter photos taken on various occasions - before digital cameras. On each occasion, I had to capture what I saw with one frame of film... the cows took off on a stampede; the spider ran into the darkness; and the pelicans and gulls dispersed incredibly quickly.