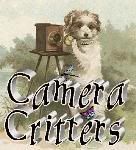 I've just come across this blog site called Camera Critters, which asks bloggers to participate each week by posting an image of an animal/critter. Then... "Each week, on Sunday evening/night, a Camera-Critters capture from that week will be randomly selected to be featured in the sidebar of this blog until the next Sunday.

Seeing I have a few animal photos floating around, not to mention I think it's fun to be involved with other bloggers/blogs, I will try to post an image per week.

This is my first Camera Critter submission - hope you all like it.

Hello Neighbour...



Do you have a nosy neighbour? I have to admit that I love my isolation in the country!! When I lived in an apartment building, nosy neighbours were the bane of my existence!