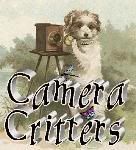 "Pets on Pedestals" is this weeks "Camera Critters" post. If you want to participate, click on the image above.

---
Most pet owners think very highly of their companions, and I'm not exempt. Do you place your pet up on a pedestal? It would seem that the attention our cats receive have gone to their heads, and they are now taking it upon themselves to sit upon that pedestal :)
I don't mind... where some people have statues in their gardens, we have the animated variety.
This was my pick.... Ella catching some zzzzzz's...
And I couldn't pass up the chance to share these...